Teachers and Faculty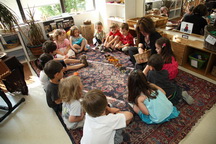 Our faculty is comprised of many different educational backgrounds and positions. However, the faculty at Forest Grove is brought together by a single commonality that connects us all: a passion and excitement for our jobs.
The teachers at Forest Grove share three common visions: attention to quality, emphasis on child-centered instruction, and a passion for educating the whole child.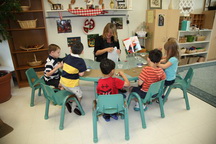 As co-learners, the educators in our classrooms learn alongside the children, while modeling enthusiasm as well as curiosity for discovery, and deepening their understanding. As teacher-researchers, we seek to develop and lend our expertise as resources for the children. This means having an awareness of the Ontario curriculum for JK/SK, drawing on life experiences, and constant research to enrich lessons.
Early Childhood Educators (registered with the College of the ECE) are present in every classroom to ensure impeccable teaching quality within our profession and that regulated operating standards are met on a daily basis. This registration is to give peace of mind and comfort to parents who hold staff qualifications to the highest standard.
Each program consists of two teachers working cohesively in order to create an environment that reflects an equal balance of creative opportunity and academic involvement. By establishing a team mentality, the teachers at Forest Grove are able to ensure a natural balance in which children prosper. It is through the team's development that the needs of the students are prioritized and met as the teachers take on the role of scientists, constantly observing and reflecting on the progression of learning and preparing for the next step.
Homeroom teachers collaborate with Studio facilitators to create a program based on the interests and needs of both the group and the individual child. This kind of programming establishes a caring and engaging environment that accepts children, encourages their natural curiosity, and integrates academic concepts without stifling the desire to learn.
Working as a team, we pride ourselves in being dedicated facilitators who support and model relationships and effective communication. Our focus on mindful relationships with students, parents and each other creates an environment of mutual respect that provides the foundation for successful academic and socio-emotional development of students.